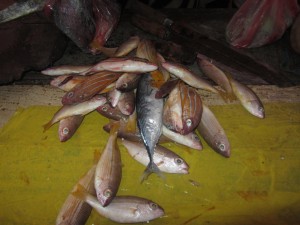 Fish lie limp and shining on Formica bench tops, bones are hacked into smaller soup stock sizes. Strong hands shred long lotus flower stems of its outer skin and fish disintegrate in big boiling aluminum pots.
The house is permeated with savory smells of cooking. The hot steamy kitchen, lit by the harsh single fluro light is a condensation of steam and illuminates piles of finely chopped green vegetables ready to dash into the soup.
Big plastic dishes of tofu, diced pumpkin and bok choy wait next to the rice steamer and in this mix, the more than healthy handfuls of salt tossed into the soup stock are balanced by the national obsession sugar.
Every meal marks a fine line between satiation and sugar toxicity.