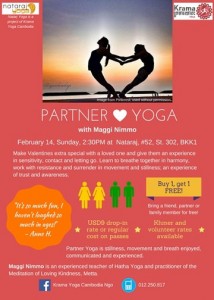 PARTNER YOGA, SUNDAY 14th FEBRUARY 2016
2:30pm Nataraj Yoga, #52 St. 302, Phnom Penh, Cambodia
Bring a friend, partner, family member for free
$9.00 Drop in or regular cost with class passes
Make Valentine's Day Extra special and give your partner an experience in sensitivity, contact and letting go. Learn to breathe together in harmony, work with resistance and surrender in movement and stillness.
An experience of trust and awareness.
FOUNDATION TRAINING, FREE SUNDAY CLASS
Sunday 13th December, 2015, 10:00 to 11:00 am
Mort Bay Park, Balmain, Sydney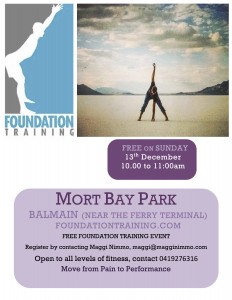 Foundation Training is a safe and effective exercise program created to help you change the movement patterns that are hurting you. These simple, transformative and effective exercise are designed to heal your back pain relief begins immediately, no equipment needed.
"No matter how strong an athlete you are, if you take the time to master Foundation Training and include it among your existing training program your athletic ability, strength and poise will improve dramatically."
– Dr. Eric Goodman
To register contact:
email: maggi@magginimmo.com
phone: 0419276316
---
THE ART OF WALKING with Maggi Nimmo
A Walking Meditation
The techniques of The Art of Walking are really a Walking Prayer, an appreciation and celebration of your life experiencing, healing and enhancing itself.
Next workshop to be arranged 
Contact Maggi Nimmo: +85510348601
       Cost: $20.00 ($15.00 Volunteers )Bookings essential, numbers are limited.
To walk is an endless joy, it takes you to new places, to renewed levels of fitness and is almost effortless when done well.  In fact when you walk well your legs, torso, core muscles are strengthened and the upper torso becomes more supple and graceful, your posture improves with every step.
If you lose this ability to walk and there I can be pain, arthritis, swelling, discomfort you can be heading over the years to the zimmer-city of the old and infirm.
In your daily lives, you often feel pressured to move ahead. You are compelled to hurry. You seldom ask ourselves where it is that you must hurry to. When you practice walking meditation, you go for a stroll. You have no purpose or direction in space or time.
The Walking Meditation is the purpose of Walking Meditation . "Going is important, not arriving." Walking meditation is not a means to an end; it is an end. Each step is life; each step is peace and joy. That is why you don't have to hurry. That is why you slow down. You are not drawn by a goal. "Thus we smile while we are walking." Thich Nhat Hanh.
---
THE YAMAS & THE NIYAMAS
THE DOs & DON'Ts OF YOGA… How to advance your life with yoga…
It's time to talk philosophy… For both teachers and students of Yoga join together to explore and apply the Dos & Don'ts of Yoga, The Yamas & The Niyamas.
The writings of Patangali can illuminate the path of your yoga practice, inform your posture, allow your life to glow.
Venue: to be arranged
Contact Maggi Nimmo maggi@magginimmo.com or +85510348606
---
 THE HEART OF BREATHING: Pranayama Explained
"And what is it to cease breathing, but to free the breath from its restless tides, that it may rise and expand and seek God unencumbered?"
Kahlil Gibran (1883 – 1931)
Those of you interested in the expansion of your life force by an awareness and entraining of your breath register your interest now.
Workshop to be arranged…
Venue: to be arranged
Contact Maggi Nimmo +85510348601
---
FOUNDATION YOGA
FLYING WARRIOR YOGA
DANCING WARRIOR YOGA
Dates :To be announced
Venue: to be arranged
I have been thinking about the yoga I practice and how it has evolved. My own injuries and physical limitations have informed it.  As a young woman training in yoga I was injured again and again. My back was weak, my legs unbalanced, my arms not strong, gradually I corrected, by my own endeavours and explorations, many of my imbalances and as a result I have developed and continue to develop the forms of yoga I teach and practice today.
Every individual has their own set of limitations and a yoga practice must address you where you stand.  For example a nervous active person who moves incessantly and restlessly, someone who cannot stay still will not take easily to meditation practices even though they do need to nurture their nervous system and learn to relax and rest.  The answer is to introduce such a person to continuous smooth rhythmic movements that gradually oil their joints, strengthen their limbs and increase awareness of how they are moving.
FOUNDATION YOGA is a basic beginners and intermediate movement series of integrated posterior, postural strengthening movements. It is a remedial practice designed to created in you, healthy movements based on postural integrity. It is  also in and of itself a strong and life enhancing meditative and mindful practice.
THE FLYING WARRIOR YOGA series is a sequence of visceral breathing coordinated with smooth movements. It challenges your memory and creates graceful movement. Its effect is soothing, warming and strengthening.
THE DANCING WARRIOR YOGA series is an exploration of imbalances in your body.  After the warm up which consists of some of the Flying Warrior movements, salute to the sun is introduced to explore and restore spinal integrity and corrective exercises prescribed according to need dictated by physical and mental imbalances. The movements are graceful and have a beautiful lyrical quality that permeates your being with joy.
THE SPIRAL WARRIOR YOGA…. (to be introduced next year) series builds on the previous series. We explore the tissue freeing spiral movements of your body that holographically coincide with the inner dynamics of spiritual liberation. The spiralling and circling movements and sequenced silences and stillness's are more possible with the structural integrity gained through the Flying and Dancing Warrior Series.
The way that I teach yoga encourages my students to do as many forms of exercise as they like, sports such as swimming, weight lifting, skiing, walking. The yoga practices can be adapted to augment and inform other activities.
Contact Maggi Nimmo in Phnom Penh on +85510348601